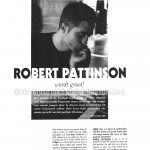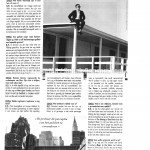 ROBERT PATTINSON
Is growing up !
Young girls worshiped the vampire, played by Robert Pattinson (27) in the Twilight Saga. But the man is slowly changing his image from pretty boy, by choosing for more dark and mature roles.Besides Dior chose him as the new face for the perfume:Homme.
Robert Pattinson made his debut very young as model and singer, in 2005 he could get hold on a small part in the 4th. Harry Potter -movie.
In 2008 the man in the street discovered him really, starring as the vampire Edward Cullen in Twilight.A part he would play 4 more times.
Afterwards more mature movies followed, showing his versatility as an actor:
Water for Elephants(2011),Bel Ami (2012)based on the novel by Maupassant , and Cosmopolis by David Cronenberg(2012).
Since the beginning of September he is starring in the new advertising campaign for Dior Homme.
SENSA:
By choosing you as ambassador,Dior Homme adresses itself to a new generation of young men.How would you describe your own generation?
Robert Pattinson:
I'm 27 now and realise nobody sees me as a child anymore.
It feels bizarre, starting to feel mature, with all those people treating you differently.It is hard to define my generation,because for people of my age, the last ten years, have been a transition period.
A lot of them have still a lot of questions.Especially me!
SENSA:
What means to be " masculine" for them, or for you?
R.P.:
Masculinity in former days doesn't work no longer in these modern contexts.
It are weird times beeing a boy, probably being a girl as well (laughs)-I always thought that being masculine meant that you are reliable, pragmatic , but in fact it are many things at the same time.
If you work in an artistic enviroment, you have to create a balance: at the same time being reliable and mad; thoughtful and negligent.
What is called masculinity has changed a lot these last years.
SENSA:
A perfume evoces often a lot of memories.Do you have yourself memories linkt to certain sents?
R.P.:
I remember my father using Brut by Fabergé. The scent reminds me of my primary school.
Later when I was 12 and got attention of girls; I decided that wearing perfume was "übercool".
I remember observing young people on holiday in Portugal, who went to a pub.I was convinced that I could pass as an adult if I poured a bottle of Eau de Cologne on myself; so I was constantly spraying myself.
That bottle was that summer my best girlfriend,that and my hair gel. ( laughs)
SENSA:
Romain Gavras directed the commercial of Dior.His vision is brilliant, but also subversive.
R.P.:
Yes, I wanted to work with him for a very long time.I got obsessed by his work since I saw the trailor of: Notre jour viendra with Vincent Cassel.I found his imagery so completely different from everything I had ever seen before.
SENSA:
What other directors do inspire you?
R.P:
Chris Cunningham and Jacques Audiard. I think Audiard is simply the best director for actors of my age.
His view on masculinity is really modern.When I saw Romain Duris in De battre mon coeur s'est arrêté,he strangely played a role that very much related to my own view of masculinity.
His character is fighting an eternal battle and yet he is not afraid to let his emotions run free.
For him being sensitive is not a weakness.
The movie is an incredible reproduction of how it is to become mature.
SENSA:
What means freedom to you?
R.P.:
Becoming famous can be a burden professionally.Your are trapped in a role, you are captured in only 1 person, with whom you are constantly identified.
What I try to do, in my own way, is to change the perception of the public.I want to be free as an artist.
Turning the Rover in Australia (official releasedate unknown in Belgium), in the middle of nowhere, was a
relieving experience.My character had no teeth, was covered with mud, but I didn't care at all.
SENSA:
Do you have a stylicon, someone you look up to in fashion?
R.P.:
I have always loved people who are guided by functionality.
I love clothing lasting a very long time,this applies both to quality and cloth.
I think now of Jack Nicholson in The shining and One Flew Over the Cuckoo's Nest.
I like almost everything he wears in the movie.When I was younger, I did my very best to get dressed the way he did.That's why I wanted to weare the same clothes during the whole Diormovie.I think you emit more style if you have only 1 look, always and everywhere.
SENSA:
On which projects you are currently working?
R.P.:
I am turning another movie with David Cronenberg, Maps to the Stars with Julianne Moore and John Cusack.David is one of the most intriging and funny directors, there are.He makes movies for over 40 years now,yet he puts an incredibly originality in every movie, because he constantly is expanding his horizon.
source scan @blackrose148 via spunk-ransom